St. Louis Arbitration Attorneys
An arbitration is really a mini-trial, with the arbitrator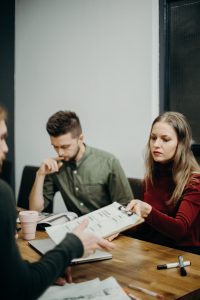 serving in the role of judge. Unlike mediation, there is a final decision rendered after hearing the case presented by both sides to a dispute. Customarily, arbitration hearings are held because a previous contract between the parties requires it in the event of a dispute. In other situations, the parties agree to submit the case in an arbitration hearing because the dispute can be resolved much more quickly and with much less cost. With a roster of attorneys that includes a retired judge, we have attorneys that are particularly well suited to preside over arbitration hearings on any type of matter.
Contact
Contact us today for a consultation. 314-863-1500. info@bbdlc.com.
Over the last two decades Blitz, Bardgett and Deutsch has earned a respected reputation in the legal community as a top-flight litigation, real estate and business transactional firm based in St. Louis, Missouri, with offices in Jefferson City and Columbia. BBD's team of seasoned attorneys and notable up-and-coming associates are also recognized standouts in matters of Employment Law, Regulatory Work, Tax & Estate Planning and Alternative Dispute Resolution.